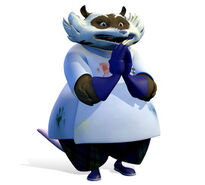 Zitzy is an evil scientist possum and is part of Ken's team. Zitzy works with Ken, the leader raccoon, and No-Neck, his good friend and rat commander. No-Neck gets along with Zitzy well while Ken doesn't really seem to appreciate Zitzy's work. Zitzy works against Ken's good twin brother Abe, and Coco the squirrel, Madman the skunk, and Nigel the mutated mole. Zitzy seems to have a major crush on Coco even though Nigel may have a small one on her and Abe is in a relationship with her. Zitzy has a high helium voice and is fearful and hesitant. Zitzy wears a lab coat and bluish purple gloves.
Ad blocker interference detected!
Wikia is a free-to-use site that makes money from advertising. We have a modified experience for viewers using ad blockers

Wikia is not accessible if you've made further modifications. Remove the custom ad blocker rule(s) and the page will load as expected.